Here is a brief outline of most of the video wall equipment that we stock and use to build our installations. Generally we do the installations with our own expert crew but can provide dry hire services on request, and under certain conditions. Please contact us for more information.
Sony BVM CRT's from 9" to 21"
Panasonic 21" CRT Monitors
JVC CRTs from 10" to 21"
Hantarex 28" CRT Cube
Seleco 28" CRT Monitor
Wedge Shaped 28" Seleco Monitor
Industrial Metal-Framed 28" CRT Cubes
Tosumi 28"CRT Monitor
Media Technologies Brick video wall processor
Image mag pro
Digimatic video wall controller
Custom built 32x output Resolume server and converter rack
Brightsign media player hire
Laptop
32x Output Resolume server
VJ / Live video operator
CRT Video Walls
Our CRT walls are at the core of the services we provide. They generally comprise of of two or more CRT screens, and whether multiple playback devices such as the brightsign media players or a single playback device and a video wall controller, used to split a single video into segments to send off to multiple screens.
Our CRT screens are mostly interchangeable, aesthetically, so sometimes can be mixed and matched. But they do differ in some small technical ways.
Wedge Shaped Seleco Monitor
Unique Wedge shape allows for curved video walls
Dimensions:
4:3 Aspect ratio
Inputs: Composite video (BNC)
Weight: TBC
Industrial Metal-Framed CRT Cubes
Unique, perforated steel industrial look
Dimensions
4:3 Aspect ratio
Inputs: Weight: TBC
Dimensions
Model: TOIT66
47(h) x 59.5(w) x 47.5(d)
4:3 Aspect ratio
Inputs: Composite video (BNC)
Weight: TBC
Video Wall Controllers for Hire
We have a selection of video wall controllers for splitting video signals to build video walls with spanned images (read more here) . Here are just a few of them.
Playback Options for Hire
Brightsign media players are programmable video players with a huge variety of options (read more here). We stock numerous models.
Small and reliable
Start up automatically
True analog PAL output possible
Full 4K output possible
Outputs: HDMI, VGA, Composite, Stereo Audio
Laptops are much more versatile than media players, with many more options for content manipulation.
Resolume Laptops Available
VMIX Playback software
HDMI output
Converters available to SDI, Fibre, Composite, S-Video and RGB
With an experienced VJ operating software such as resolume, almost anything is possible. Change videos on the fly, add effects and play video to the beat of the music. All displayed live on your chosen video wall.
Live video playback
Various VJ software
Most flexibility and control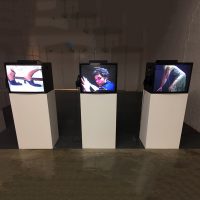 We stock various plinths designed to have a single CRT screen sit on top. We are able to source other sizes to your specifications. 
65cm height to 110cm height
Generally white or black, but can be painted to suit
Designed to fit perfectly the base of a 28" CRT screen
Space to hide cables and media players underneath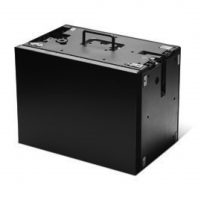 We also keep stock of original Christie Microtiles. These aren't CRTs, but they do make great video walls. They are a bit smaller than the CRTs, but much lighter and more versatile. They also have almost no border around the edge, so they butt up next to one another to make a clear, less broken image. A great halfway point between the old school look of the blocky CRT walls, and more modern seamless LED wall technology. 
31cm(h) x 41(w) x 26 (d)
4:3 Aspect ratio
Rear projection DLP
Lightweight